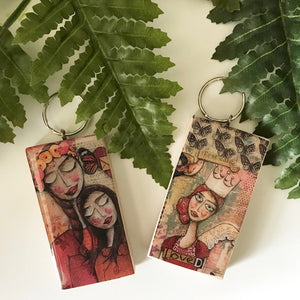 Choose from 2 beautiful designs to show that special someone just how you feel. She will treasure ether of these pretty keyrings, handmade in Manitoba.
Approx 3" x 1.5"
Original painting by Le Papillon Art printed on wood, sealed with resin
Resin is hand poured, creating an unbreakable, waterproof seal to ensure the preservation of the picture.
2 Deigns Available
"Comfort" -2 ladies
"Loved" - lady with crown
Perfect complement to a pretty bath bomb heart, floral zip pouch, floral notebook or any of our items in the HERS gift collection.